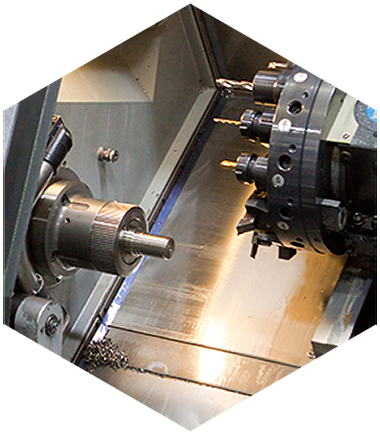 At Soltech we are proud of our fully modernised fleet of machinery, which allows us to complete every order to perfection. We have 10 CNC milling centres in both 3 and 5 axis formats, a number of them featuring robot loading stations. Then there are our 7 CNC lathes, all with automatic bar feed. The robot loading stations and automatic bar feeders allow production to be fully automated, with a consequent reduction in cost price. For shorter order runs we use our conventional lathes and milling machines.
The modern machines are controlled via a CAD/CAM system. This speeds programming, contributing a further cut in costs as well as reducing the risk of error.
Our Wenzel 3D measuring machine equips Soltech to measure complex products with extreme precision, during and following production. Measurement reports can be supplied along with the finished components if desired.
CNC Milling
Type
x-axis
y-axis
z-axis
Table dimensions
Steering
Axes
Load Robot
Victor
Vcenter 70
700
430
510
700 x 400
Fanuc 0i-MD
3
Victor
Vcenter 70
700
430
510
700 x 400
Fanuc 0i-MD
3


Victor
Vcenter 85
850
600
560
850 x 600
Fanuc 0i-MD
3
Victor
Vcenter A110
1.100
600
560
Ø 320 x 300
Fanuc 0i-MD
5
Yes
Victor
Vcenter A130
1.300
600
700
1.300 x 600
Fanuc 0i-MD
3
Accuway
UM 60
600
510
510
750 X 560
Fanuc 0i-MD
4
Yes
Accuway
UM 110
1.100
550
550
1.100 X 600
Fanuc 18i-M
4
Yes

Eagle
VMC 1300
1.300
635
635
1.300 x 600
Fanuc 0i-MD
3
Mazak

VTC 800/30 SR

3.000

800

720

3.500 X 820
Matrix

5



Mazak

Variaxis J600/5x

850

550
510
Ø 730 X 450
SmoothX

5

Yes

| CNC Turning | Type | x-axis | Details | z-axis | Powered Tools | Steering | Transit | Barfeeder | Diam | Length | Load Robot |
| --- | --- | --- | --- | --- | --- | --- | --- | --- | --- | --- | --- |
| Muratec | MT 12 | 200 | Double Turret | 200 | 2 x 15 | Fanuc | 52 | Yes | Ø 200 | 150 | |
| Mori-Seiki | SL 25 | 160 | - | 1.092 | 12 | Fanuc MF-T6 | 52 | Yes | Ø 240 | 500 | |
| Accuway | UT 200 | 220 | - | 600 | 10 | Fanuc 0i-T | 52 | Yes | Ø 240 | 500 | |
| Victor | A26Y | 260 | Subspil 830 | 850 | 12 | Fanuc 0i-TD | 75 | Yes | Ø 400 | 1.000 | Yes |
| Gildemeister | Twin 42 | 220 | Double Turret | 380 | 2 x 12 | Siemens SIN840d | 42 | Yes | Ø 100 | 320 | |
| CNC Swiss Turning | Type | X-axis | Details | Z-axis | Powered Tools | Steering | Transit | Barfeeder | Diam | Length |
| --- | --- | --- | --- | --- | --- | --- | --- | --- | --- | --- |
| Manurhin | KMX 326 | 155 | Subspindel | 300 | 6 fixed x 6 powered | Fanuc 18i-T | 26 | Yes | Ø 26 | 1.500 |
| Star | SV38R | | Subspindel + steerded B-axis | | 2 x 10 | Fanuc 31i-B5 | 38 | Yes | Ø 38 | 350 |
| Sawing | Type | Implementation | Auto Supply | Width | Lenght |
| --- | --- | --- | --- | --- | --- |
| Kasto | Twin A2 | 2 pillars system | Yes | 260 | 260 |
| Measurement | Type | x-axis | y-axis | z-axis | Software |
| --- | --- | --- | --- | --- | --- |
| Wenzel | LH65 3D CNC | 650 | 750 | 450 | Metrosoft QUARTIS® |
| Mitutoyo | PJ-A3000 | 630 | 630 | 80 | QM-Data 200 |
| Automation | Type | Maximum weight | Possibilities |
| --- | --- | --- | --- |
| BMO | PT50 | 50 kg | Product and pallethandling |
| Universal robots | UR10 | 10 kg | Mobile |